The Buildings in 1601
This was operating at a a trial page to show what the centre of the village of Paston may have looked like in 1601, 20 years after the Great Barn was completed and after a period of restoration on the church.
However, because of changes in the way that Google Earth operates through a browser, the 3D reconstructions of the church, barn and Paston Hall cannot at present be viewed directly within this browser. We are aware that Google are builidng a new interface; we are hoping this will restore the faiclities we were intially able to offer and that it will greatly extend them because it is inidicated that they will be fully functional on a wide variety of mobile phone and tablets.
The existing models are fully functional within Google Earth itself.
This is a developing page that will change as the model is built.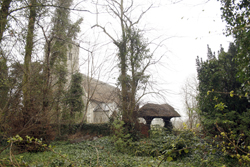 This is a developing trial page. At present you can view a speculative model of Paston Hall as it was in 1601 and St Margaret's church and the great barn in the same year. . Efforts continue to bring together information which will further inform the design and the position of the hall. At the moment it is the initial stage of a 3D model; suggested textures are being added and other features put into the model.
Paston Hall 1601 Barn 1601 St.Margaret's church 1601