About Paston Heritage Society
The Paston Footprints project featured on these pages was a joint project between the Paston Heritage Society and the University of East Anglia. Paston Footprints continues, led by Dr Smyth at UEA and Dr Rob Knee. The Paston Heritage Society closed in 2022 now that the mission of sharing the Paston heritage has been achieved in reaching such widespread demographics. Individual past members, however, remain active and are dedicated to continuing to seek to fulfil the PHS aims. Past members are most grateful to the National Heritage Lottery Fund for its support for the Paston Footprints project, which we trust has brought the story to thousands and will continue to do so for the years ahead.
The aims of the Paston Heritage Society were:
To preserve Paston Church as a centre for both physical and spiritual refreshment for residents and pilgrims.
To aid research into the history of Paston and the Paston family.
To seek actively to introduce a new generation of local historians to their heritage.
To promote events that unite the community of Paston.
On the closure of the Society funds were all transferred to Paston Church to support the efforts there to present the Paston heritage.
Members of the Paston Heritage Society.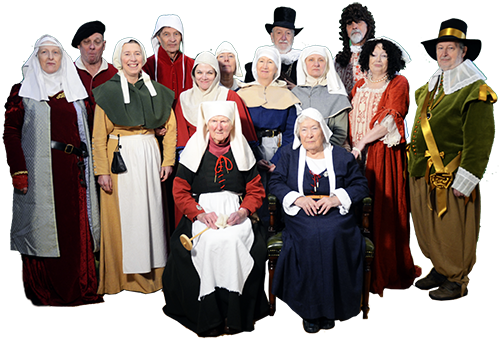 Dressing in period costume was not compulsory for membership of the Paston Heritage Society!