The Paston Treasure - a precious picture
The Paston Treasure is a painting in the care of the Norfolk Museums Service.
For a short introduction to the painting, watch The Paston Treasure: A Painting Like No Other) with commentary by Norfolkman Stephen Fry.
The Paston Treasure is a unique work. Though in some ways typical of a type of seventeenth century Dutch still-life depicting the vanity of worldly wealth, it is also an accurate portrait of part of the Pastons' collection at Oxnead Hall. The known survival of five artefacts from the painting proves that the majority of these objects, and very probably all, were real, not just symbolic, as they correspond to extant inventories of the collection. These few items were chosen from a collection of hundreds: probably the largest collection of its type in the country at the time. The artist remains unknown. It seems certain that the patron intended to portray family heirlooms, but there are references also to music, travel, and possibly to alchemy, so perhaps intellectual interests and achievements are also being celebrated. The patron could be either Sir William Paston, first Baronet 1610–63 or his son Sir Robert Paston 1631–83, first Earl of Yarmouth. Robert was given his earldom as reward for supporting Charles II while he was in exile.
Sadly, this generation of Pastons lived beyond their means. Robert's son, also William, the second Earl 1654-1732 died bankrupt, with no direct male heir. The entire collection, including this painting, was sold.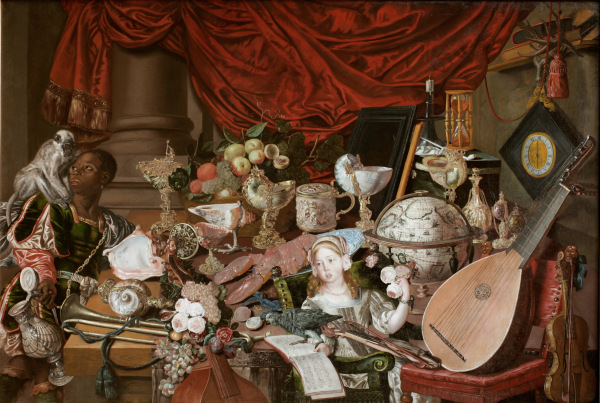 In 2018 the went to the Yale Center for British Art as the centrepiece of a special exhibition there about the Pastons; later in the year it came back to Norwich for a magnificent exhibition at Norwich Castle Museum. You can view the introductory talk to the Yale exhibition.
Dr Francesca Vanke, Senior Curator and Keeper of Fine and Decorative Art, Norwich Castle Museum, considers the young lady in the picture in the light of recent research.
Explore singer Peter Brathwaite's recreation of the Paston Treasure.
Ed. Nathan Flis, Andrew Moore and Franceska Vanke, The Paston Treasure: Microcosm of the Known World, Yale University Press, 2018