Cromer Hub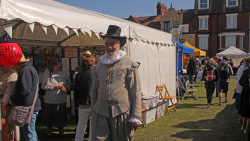 Sea captain Clement Paston at Cromer Crab & Lobster festivalAt the outset of the Paston Footprints project it was not envisaged that Cromer – or Shipden, to use its alternative medieval name – would be a place of particular interest. But with the emergence of the knowledge that the town – or at least two of its manors – included early purchases of Judge William Paston, there were opportunities to develop links. Little is known of the funding and building of the large parish church at Cromer in the late 14th century, and much of the medieval detail of the building has been lost over the centuries and replaced by restoration. However, the vicar at Cromer plays his part in the Paston Letters, as it is he who is recorded as being the witness for the machinations that followed the Paston acquisition of the manor of East Beckham.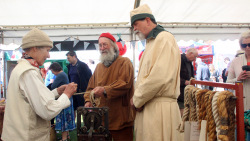 A lesson for a Paston in rope making at Cromer Crab & Lobster FestivalThrough liaison with the Friends of Cromer Museum, the Pastons appeared at the annual Crab and Lobster Festival in the town. This annual weekend event in May proved an ideal opportunity to feature the Paston story for the hundreds of visitors. Unfortunately the 2020 and 2021 events could not be held.
Cromer ArtSpace provides pictures in public spaces throughout the town, with large scale prints on various buildings and an art trail for residents and visitors. In 2021 they asked for the support of Paston Footprints to put a copy of the Paston Treasure painting on the wall of the Community Hall. Paston Footprints were pleased to help with this, and it has been in place for several months. Robert Paston was pleased to attend the "launch" of the painting and explain its background – without having to become too officious about the holdings of his family in the town, through to the sale of the manors in the earlier 18th century! He was joined for the occasion by the Mayor and Town Crier, and together they made a further presentation in the churchyard. The event was very well covered in the local news and the free sheets that go to every home in town.
Hear Robert Paston, Earl of Yarmouth and Lord of the Manor at Cromer, introduce the painting.