About the University of East Anglia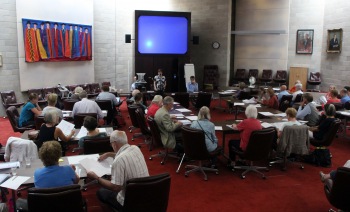 Dr Karen Smyth addresses the opening conference at the University of East AngliaThe University of East Anglia is the collaborative partner with the Paston Heritage Society for the Paston Footprints project. The University, pledged to 'do different' in interdisciplinary studies, has been based in Norwich since the 1960s. The Paston Footprints project grows out of this commitment, as innovative interpretations is a major feature of this project, bringing together academics and the thriving creative, dramatic, heritage and well-being sectors of the community today.
New Stories and Storytellers
We are discovering untold stories of the Pastons, not least from the letter collections beyond the medieval archives. In addition, the familiar known Paston letters and legends are being brought to life through new storytelling mediums (including dramas, animations, heritage trails and social media), and by a wide range of new storytellers, from children to creative practitioners, the digitally savvy to wellbeing groups.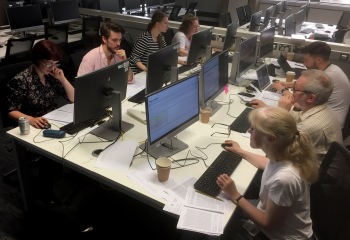 Front right is project archivist, Jenny Watts from Norfolk Record Office and Tim Lenton, of the Paston Heritage Society, working with students from UEA's School of Literature, Drama and Creative Writing, helping with the Paston Editions Database.The story, which began over 600 years ago, can be traced in the archives and landmarks extant in multiple locations around the region. The letters, lives and legends tell us much about Norfolk life over a period of nearly four hundred years. Our aim is to investigate our present-day emotional resonance and human connection with how we translate Paston heritage for our modern society. A variety of research theories underpin the project, including immersive storytelling and performance, critical heritage studies, Medievalism and Medical Humanities.
Connection with Place
Having an impact on the world beyond academia has always been at the heart of UEA's research aims. The School of Literature, Drama and Creative Writing encourages people to explore reworking texts so that stories are cultivated and renewed for new audiences. The project aims, through promoting community connection to Paston places, to reach new audiences across East Anglia. We believe there is power to transform the experience of Paston heritage through participation opportunities for entertainment purposes, for deepening engagement through community co-production and research (which has already yielded new archive and story discoveries), and wellbeing benefits through community ownership and sense of belonging, a sense of walking in the footprints.

Medical Humanities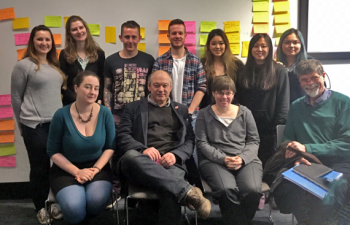 Students from UEA's MSc Marketing and Management Course created a marketing brief for the Footprints project. This photograph features the students who interviewed key project stakeholders, in the front row from left to right are: Sophie Cabot (Norfolk County Trails), Rik Martin (Community Action Norfolk), Karen Smyth (UEA), and Rob Knee (Paston Heritage Society).This project forms a central contribution to UEA's interests in Medical Humanities. What underpins the range of Footprints' activities is the empowering of people to foster links and belonging to their local, globally important, heritage through creative and analytical skills training and making the heritage accessible to non-traditional audiences. As such, the lead PI, Dr Karen Smyth, Associate Professor in Literature at UEA, is dedicated to fostering creative and wellbeing impact.
Dr Karen Smyth first worked with the Paston Heritage Society during the 2013 Norfolk Record Office 'The Pursuit of Power' exhibition. This led to collaboration in an AHRC and HLF 'All our Stories/ The Ideas Bank' project (PI: Dr Sarah Spooner, Landscape History at UEA), and an AHRC Connected Communities 'Preserving Place' project (Co-PIs with Karen were Dr Jon Gregory, UEA Landscape History, Rik Martin of Community Action Norfolk, and Dr Power of the University of Southampton). The Footprints project impact is informed by this earlier research, see:
Underpinning Research Publications
2016. K. Smyth, A. Power, 'Heritage, Health and Place: The Legacies of Local Community-Based Heritage Conservation on Social Wellbeing', Health and Place, 39, 160-169.
2017, K. Smyth, A. Power, R. Martin, 'Culturally Mapping Legacies of Collaborative Heritage Projects', Valuing Interdisciplinary Collaborative Research: Beyond Impact', eds., K. Facer and K. Phal, Policy Press.
2021, H. Maples and K. Smyth, Paston Drama Heritage Trail Podcasts, www.pastonfootprints.co.uk
2022, H. Maples, 'Touching Past Lives: The Limits of Evaluating Immersive Heritage Performance Audiences', Impacting Theatre Audiences, eds., D. Snyder-Young and M. Omasta, 2022, 14pp.
Visit the UEA's School of Literature here
Students from UEA's BA Hons final year module in Landscape History have engaged in work experience placements to assist with the walking trails and the editions database. Paston Footprints features as a case-study on UEA's MA in Medical and Health Humanities and on a 'Digital Storytelling' module. Drama students at the University of Essex have developed creative performance resources for the heritage trails.
Thanks to the National Lottery Heritage Fund for supporting the Footprints project, the Economic and Social Research Council Impact Accelerator Fund for Heritage Tourism, the Arts Council for supporting our drama outputs, and UEA's School of Literature, Drama and Creative Writing, the stage is set for many years for developing further research and impact activities. Dr Smyth welcomes expressions of interest in PhD projects, and can be contacted via her UEA home page.