Friends & Enemies of the Medieval Pastons
Duke of Bedford John Lancaster (1389 - 1435)
The Duke of Bedford was Henry VI's cousin and Regent in France at a critical stage of the Hundred Years War. He is regarded as a capable administrator and soldier but was in command at the time that Joan of Arc rose to fame and emboldened the French cause. He died when a peace was being negotiated at the congress of Arras. John Fastolf was one of his executors.
Henry Frowyk (1390 - c.1459)
He was a mercer, alderman and twice lord mayor of London; he was a Justice of the Peace for Middlesex. He was also an ambassador to the Hanse towns.
The Frowyk family were significant in trade and in the law for over two and a half centuries.
Lady Isabel de la Pole (c.1396 - c.1467)
Isobel, Lady Morley, was a daughter of Michael de la Pole, second Earl of Suffolk. She married Thomas, Lord Morley, and was widowed in 1435. Her will was dated 03 May 1463/4 and made at her house in Norwich, in the parish of St Peter Mancroft. The Morley estate was at Hingham.
Duke of Suffolk William de la Pole (1396 - 1450)
Born at Cotton in Suffolk, he was an active soldier in France during the Hundred Years War. He was not at Agincourt because he was an invalid at the time, but he was at many other significant victories and defeats such as Verneuil and the Siege of Orleans. He spent three years as a prisoner of Charles VII in France.
On return to England he became very influential during the reign of the weak king Henry VI. De la Pole was responsible for arranging the marriage of Margaret of Anjou to Henry VI. He was no friend of Sir John Fastolf, nor of John Paston I.
His influence grew to the point where he had many enemies, and in 1450 he was imprisoned in the Tower of London. He was banished for five years, but while he was being transported to France by ship, another vessel, the Nicholas of the Tower, came up. De la Pole was seized and executed, his body being left on the sands off Dover.
An account of the events is vividly told in a letter to the Pastons; he had been behind many of the difficulties they had experienced in the previous decade, and while his death seemed to bring them some relief from attacks from others in Suffolk's camp, they proceeded with caution in respect of their response.
Lady Eleanor Neville (c.1398 - 1472)
Eleanor Neville was first married to Richard le Despencer and then to Henry Percy, 2nd Earl of Northumberland. Henry Percy was killed at the Battle of Towton. Eleanor and Henry had nine children; she comes into the Paston Letters when she claims the lands of Robert Poynings after he was killed at the Second BAttle of St Albans. Eleanor claimed the lands as Baroness Poynings in her own right, whilst Elizabeth Poynings, née Paston, claimed them as Robert Poynings widow.
Thomas Scales (1399 - 1460)
Thomas Scales succeeded to the Barony of Scales after the death of his elder brother as a young man in 1419. Their father was the 5th Baron, Robert de Scales.
He served in France under the Duke of Bedford and was captain of Verneuil by 1423. In 1424 and 1425 he fought alongside John Fastolf to retake the castle at Maine. Captured at the battle of Patay, he was later ransomed. In the Wars of the Roses he server the Lancaster cause. When Captain of the Tower of London, he turned the Tower's weapons on the Yorkist forces of the Earl of Salisbury besieging the Tower, the action leading to his murder.
Sir John Heveningham (c.1400 - 1453)
John Heveningham (John Heveningham I) was of Heveningham in Suffolk but also owned land in Norfolk. He refers to Margaret Paston as 'my cousin'. A JP for Suffolk, he was sheriff for both Norfolk and Suffolk.
William Neville (c.1405 - 1463)
William Neville fought as one of Henry V's commanders during the latter part of the Hundred Years War. He was active on sea and on land and was perhaps one of the most significant military commanders of the Wars of the Roses. While initially loyal to the Lancastrian cause, he sided, as did many of the Nevilles, with the Yorkist cause which brought his relative to the throne as Edward IV.
John Wymondam (c.1410 - 1475)
John Wymondham was one of the lower level but ambitious people searching for power at the same time that the Pastons were trying to enhance their status. He is presumed to have derived his name from the town of Wymondham. In 1436 he bought the manors of Crownthorpe and Wicklewood. He was associated with John Heydon and Sir Thomas Tuddenham and their nefarious practices, which included tendentious court cases and the threatening of judges and jurors. Towards the end of 1450 he established himself at Felbrigg with the leasing of the manor house and eventually became the owner when Lady Felbrigg died. At one point another of the Felbrigg family physically ejected Wymondham's wife, but the ownership was settled by his payment of 200 marks under the authority of the Sheriff of Norfolk. He was an MP in 1439-40, 1459 and 1467-8.
Duke of York Richard Plantagenet (1411 - 1460)
The son of Richard, Earl of Cambridge and Anne Mortimer, he served in several significant offices of state. in Ireland, France and England. Amongst his roles were Governor of France, Lieutenant of Ireland and Lord Protector of the child king Henry VI. Later his conflicts with Henry VI's wife, Margaret of Anjou, were a reason behind the the Wars of the Roses. He sought to become king himself but settled for an agreement that he would become king after the death of Henry. He did not achieve kingship as he was killed in battle, but two of his sons, Edward IV and Richard III, became the Yorkist kings
When killed at the battle of Wakefield, his head was first placed on Micklegate Bar at York; he was then buried at Pontefract but later his body was moved to Fotheringhay.
Earl of Hastings Edmund Grey (1416 - 1480)
Edmund Grey was an administrator and magnate, living at Wrest, near Silsoe in Bedfordshire. Between 1456 and 1458 he was a regular attendeer at the King's council and was made treasurer of England for a year, in 1463.
King Henry VI (1421 - 1471)
Henry VI was King of England from 1422 to 1461 and again from 1470 to 1471, and was disputed King of France from 1422 to 1453 on the death of Charles VI.
He was the son of King Henry V of England, a renowned warrior king, who married Catherine of Valois as part of an attempt to combine the kingdoms of England and France. However, Henry V died shortly after his marriage, with Henry VI becoming king at the age of nine months.
Henry VI's personality was very different to that of his father. As he was a child king, the ruling of England was in the hands of a regency council, with his uncle John, Duke of Bedford as the senior regent. While Bedford pursued the war in France, his brother Humphrey, Duke of Gloucester, was Lord Protector.
Henry VI was crowned king of England in Westminster Abbey in July 1429 and king of France in Notre Dame in December,1431. He married Margaret of Anjou in April 1445 in an effort to achieve peace with France.
His son Edward was born in 1453 and was killed at the battle of Tewkesbury in May 1471. Henry was responsible for the founding of Eton College, King's College, Cambridge, and All Souls College, Oxford.
His weakness as a king led to various nobles increasing their influence. Of particular interest in the Paston story is the rise of the Duke of Suffolk - and Suffolk's eventual demise is recounted in detail in one of the Paston Letters.
Henry experienced a mental breakdown in August 1453 and was unable to rule in any way for over a year. The increasing acrimony between various lords and his queen, Margaret, led to the Wars of the Roses and its violent struggles between the house of Lancaster and the house of York. Edward took the throne as Edward IV after the battle of Towton. Henry experienced a further bout of mental breakdown and was returned to the throne for a while, but after a further defeat by the Yorkists, he was imprisoned in the Tower of London, dying there - probably murdered - in 1471.
Lord Moleyns Robert Hungerford (c.1429 - 1464)
Robert Hungerford, Lord Moleyns, was a member of succcessive parliaments in the 1449s and early 1450s, but for most of the rest of that decade he was a prisoner in France after being captured at the siege of Chastillon. On return from France he fought often, for the Lancastrian cause.
He was part of the cabal who terrorised pasts of Norfolk. He seized Gresham Castle from the Pastons in 1448 and then 1450. The Pastons eventually got it back. Lord Moleyns was executed in Newcastle soon after being captured at the Battle of Hexham.
William Hastings (c.1431 - 1483)
William Hastings was a distant cousin and loyal courtier of the first Yorkist king, Edward IV. He is mentioned in the Paston Letters as a close friend to King Edward IV and as an adviser to whom John Paston could turn when Hastings became Lord Chamberlain. He was with Edward at the Battle of Mortimer's Cross and at the Battle of Towton. He became one of the richest and most powerful men in England at the time of Edward's death in 1483.
In 1462 he married the widowed Katherine Neville, whose husband had been killed at the second Battle of St Albans in 1461.
His loyalty to the Yorkist cause did not survive the death of Edward IV: while he supported Richard as Protector to the young King Edward V, he was executed as part of Richard's plan to seize power as Richard III.
Archbishop George Neville (c.1432 - 1476)
George Neville was Archbishop of York from 1465 until 1476. He was also Chancellor of England from 1460 until 1467 and again from 1476 to 1471. He was educated at Balliol College, Oxford. Brother of Richard Neville, the 16th Duke of Warwick (Warwick the Kingmaker), he played important parts in the politics of the Wars of the Roses, serving both the Yorkist and Lancastrian causes as pragmatism dictated. At one point he was responsible for the imprisoned Henry VI and at another point was himsef imprisoned in the Tower of London with Henry.
Lord Scales Anthony Woodville (1440 - 1483)
A letter of William Paston reports that Anthony, Lord Scales, was killed at the Battle of Towton in 1461, but this proved to be incorrect.
Anthony Woodville, Lord Scales was the brother of Queen Elizabeth Woodville, who married King Edward IV. After King Edward's death he was arrested and then executed by the future Richard III. Rivers was a learned man and translated a major philosophical work from French into English; it was one of the first books printed in England by William Caxton. He was the lead contestant in the tournament that took place in Smithfield on 11th and 12th June 1467. On the first day he unhorses his opponent, Comte de la Roche, in the lists and on the second day they fight with poleaxes. The Comte de la Roche is generally known as the Bastard of Burgundy.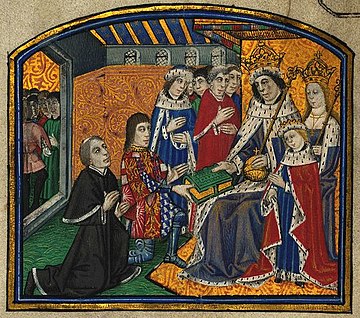 King Edward IV (1442 - 1483)
Edward IV, the first of the Yorkist kings, ruled for two periods, his reign interrupted by the return for a while of Henry VI. Henry's personal weakness and the resultant military and economic ills of England led to the the many conflicts we know as the Wars of the Roses. Edward's first reign from March 1461 to October 1470 was achieved through the influence of the 'Kingmaker', the Earl of Warwick. When Warwick switched sides to champion the Lancastrian Henry, Henry was restored to the throne but only for a period of seven months. Edward then reigned through a period of relative peace until his death, generally regarded as through natural causes.
John de la Pole 2nd Duke of Suffolk (1442 - c.1492)
In his early days John de la Pole suffered through the reputation and execution of his father William de la Pole, William's land having been returned to the crown. John was a powerful man in East Anglia in the 1460s; he attempted to purchase part of the inheritance of Sir John Fastolf to the detriment of John Paston. The Paston manor house at Hellesdon was destroyed by his men.
He sided with the Yorkists in battles of the Wars of the Roses and emerged as Lord Steward for the coronation of his cousin Edward as King Edward IV. He remained an influence into the reign of Richard III.
In spite of his earlier allegiance, John seems to have retained the trust of the new King Henry VII through to his death in 1492.
Duke of Norfolk John Mowbray (1444 - 1476)
John Mowbray was Earl of Surrey between 1451 and 1461; he became Duke of Norfolk when he succeeded his father to the title. He continued his father's efforts to obtain Caister Castle and succeeded in doing so by force in 1469. The Pastons retrieved the castle when Mowbray died suddenly in 1476.
Duke of Clarence George Plantagenet (1449 - 1478)
George Plantagenet, Duke of Clarence, was a brother of King Edward IV and of King Richard III. In the Wars of the Roses, though he was a Yorkist by birth, he switched at one stage to the Lancastrian side and then switched back again.
He was eventually convicted of treason against his brother King Edward IV and was executed in the Tower of London, with rumours soon saying he was drowned in a barrel of wine.
Sir William Boleyn (1451 - 1505)
William Boleyn was born at Blickling, Norfolk. He was created a knight by Richard III. In the reign of Henry VII he was put in charge of the beacons around the English coast that would be used in case of invasion. He served as High Sheriff of Kent in 1489 and High Sheriff of Norfolk and Suffolk in 1500. Anne Boleyn, beheaded second wife of Henry VIII, was his granddaughter, and Queen Elizabeth I was his great-granddaughter.