Sir John Fastolf's Motto and Badge
The coat of arms of the famous Norfolk knight, Sir John Fastolf, KG, is well known, blazoned as quarterly Or and Azure, on a bend Gules three cross crosslets bottony of the first. However, other elements of his heraldry are not so easily recognisable and deserve further consideration.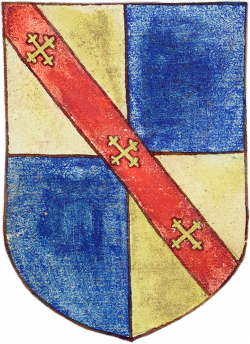 Fig 1: Sir John Fastolf's arms, from the Paston Book of Arms, c. 1450For his motto, Fastolf used the Middle French phrase, Me fault faire ('I must do'). It was incorporated into the design of some twenty or so of the decorated initials in the magnificent manuscript volume containing the texts of Christine de Pizan's L'Epistre d'Othea and Les Quatre Vertus Cardinaulx, which Fastolf commissioned in 1450 and which is now in the Bodleian Library at Oxford.1 The illuminations in the manuscript were the work of 'The Master of Sir John Fastolf', an anonymous (probably French) limner, active in France, Normandy and England in the second quarter of the fifteenth century. The Master takes his name from this particular Bodleian manuscript, which he illustrated in England for Fastolf. He first worked in Paris before 1420, then moved to Rouen to take advantage of a large potential English clientele there. Some time before the recapture of Rouen by the French in 1449, he moved to England to continue his work for English patrons in their homeland.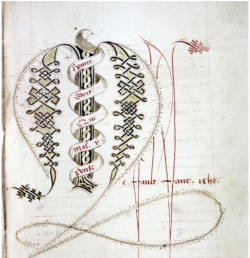 Fix 2: Calligraphic M, as the initial to Fastolf's motto, Me Fault Faire, followed by the date 1450 in Arabic numerals. The central minim of the M is wrapped with a scroll bearing the legend of the Order of the Garter – Honny Soit Qui Mal y Pense – of which order Fastolf had been made a knight in 1426.Associated with the Fastolf Master in the production of the Bodleian manuscript was the scribe, Ricardus Franciscus who, from his surname, was also probably French. The two cooperated together on the creation of many de luxe manuscripts: of the twenty or so surviving works illuminated by the Fastolf Master and now held in many major libraries in the UK, Europe and the USA, at least six were collaborations with Ricardus.2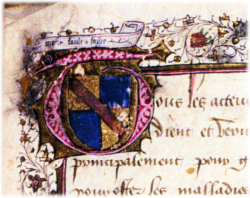 Fig 3: Fastolf's motto, me fault fayre, with his coat of arms, in a decorated initial T.Fastolf's motto, with the slightly different spelling, me fault fayre, appears, together with an emblazonment of his arms, in another book which he owned, a copy of a French text of Aldobrandinus of Siena's medical treatises, also now in the Bodleian Library.3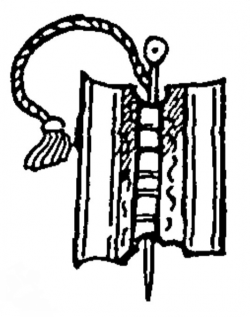 Fig 4: Sir John Fastolf's badge of a hinge with a removable pin and lace.The fifteenth century saw a proliferation of the use of badges and livery by the nobles and gentry, particularly in connexion with their military retinues and households. Sir John Fastolf's livery colour was red, while he is known to have used several badges, including a poppy leaf, a rose Argent, a ram and a cross Gules.4 For many years, commentators were baffled by what his main badge was intended to signify. Hugh Stanford London Norfolk Herald Extraordinary, writing in 1948, commented on that particular badge of Fastolf's, which appeared in an armorial of Knights of the Garter, compiled in about 1488 by John Wrythe, Garter King of Arms. Stanford London stated that the 'badge apparently represents some sort of reel and pin; it is all white except the cord and tassel, which are green and gold respectively'.

Fig 5: Bascinet of c. 1400, showing the visor hinge with removable pin attached with a lace.However, in the following year, Sir James Mann the Keeper of the Tower Armouries and a renowned expert on medieval arms and armour, provided the solution. He explained that the badge was a hinge with a removable pin which were attached to one another by means of a short lace, to prevent the loss of the pin.5 This sort of hinge was associated with the type of bascinet in use in the late fourteenth century and in the early decades of the fifteenth. Mann added that 'Just such a hinge was used about that time to connect the vizor with the body of the helmet, the pin being pulled out when it was desired to detach the vizor'. A practical example of a hinge of this sort is seen in the accompanying image of a bascinet. This being so, it is a most appropriate badge for an old soldier such as Fastolf, who would have worn such a helmet during the many years which he spent in arms in France during the Hundred Years' War.

Page contributed by Dr John Alban
References
Oxford, Bodleian Library, MS Laud Misc. 570. Fastolf had a particular personal interest in Christine de Pizan's L'Epistre d'Othea. An English translation of this work was made by his stepson, Stephen Scrope, who dedicated it to him. See The Epistle of Othea to Hector, or the Boke of Knyghthode. Translated from the French of Christine de Pisan, with a Dedication to Sir John Fastolf, KG, by Stephen Scrope, Esquire ed. G.F. Warner (London, 1904).
For further information on the Fastolf Master and Ricardus Franciscus, see M.W. Driver, '"Me fault faire": French Makers of Manuscripts for English Patrons', in Language and Culture in Medieval Britain. The French of England, c.1100–c.1500, ed. J. Wogan-Browne et al. (Woodbridge, 2009), pp. 420-43; and C. Reynolds, 'English Patrons and French Artists in Fifteenth-Century Normandy', in England and Normandy in the Middle Ages, ed. D. Bates and A. Curry (London, 1994), pp. 299-313. For details of the other books owned by Fastolf, see R. Beadle, 'Sir John Fastolf's French Books', in Medieval Texts in Context, ed. G.D. Caie and D. Renevey (London, 2008), pp. 96-112.
Acknowledgements

Fig. 1, by permission of the Norfolk Record Office.
Figs. 2 and 3 are provided by Digital Bodleian under its Creative Commons licence CC-BY-NC 4.0.
Fig. 5 is provided under The Metropolitan Museum of Art's Open Access Policy, in accordance with its Creative Commons Zero (CC0) licence.