John Fenn and the Paston Letters
The bulk of the letters and papers were sold by William Paston, 2nd Earl of Yarmouth, the last representative of the family, to the antiquary Peter Le Neve early in the 18th century. According to Fenn's introduction to the letters, on Le Neve's death in 1729 they came into the possession of Thomas Martin of Palgrave, who had married his widow; and upon Martin's death in 1771 they were purchased by John Worth, a chemist at Diss, whose executors sold them three years later to John Fenn of East Dereham.
John Fenn was an antiquary. He saw his chance to add something new to contemporary understanding of 15th century England. As he says: "The sufferings of warriors, the distresses of private life, occasioned by so tempestuous a season, and the concise rapidity of the narratives, will present a truer picture of that turbulent period than could be exhibited by the artful pencil of a sedate historian."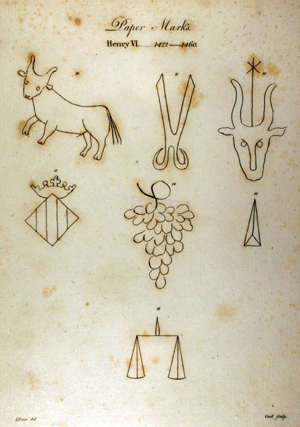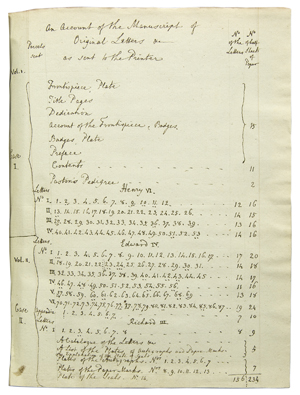 He therefore proceeded to produce and publish an edition of the letters. His work was careful, well researched and was to inspire scholars not only of social and political history but of the history of the development of English as a language, the development of watermarks and paper production and of calligraphy.
He remarked in his introduction: "a faithful delineation of our language, during a period of almost half a century, in an age too, famous for little besides its barbarity and civil dissensions, is a matter not only of much curiosity but of some use." He concentrated on letters relating to the court and to the political life of the period because he felt that only the history of great events and noble people would be of interest to his audience. But later generations find the thoughts and reflections on the everyday lives of the Pastons and their neighbours a window into an extraordinary time - made understandable by the very ordinary emotions and reactions recorded in the letters.
The first edition of the letters sold out in a week, Fenn gave copies to carefully selected members of the great and good, including Boswell and Johnson, and of course, the king, to whom he dedicated his work. Norfolk Record office have a file of some of the letters written to Fenn in response to publication. To us, some of the reactions seems overstated and extraordinary , ("They cause me to forget to eat or sleep..." W. Hutton) but we forget that since their discovery, the letters have been a major research source for historians of the period and have thus informed much of our reading of the period.