North Walsham and the Pastons
North Walsham lies at the centre of what we can call 'Paston Country', and the town has an important role throughout the 350-year history of the Paston family. North Walsham, as with many north-east Norfolk medieval settlements, was counted among the holdings of the Abbot of St. Benet's Abbey from the time of the Domesday book.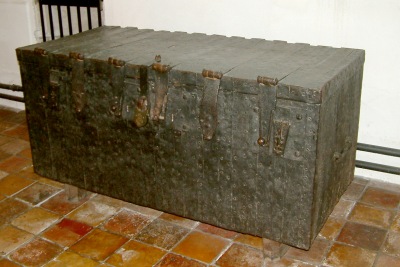 A mill and 100 acres
Three centuries later we know that Clement Paston established a mill and a holding of up to 100 acres of land at nearby Gimingham and Paston. The first reference to the Paston family and North Walsham appears in Francis Blomefield's 18th century History of Norfolk:
"About the year 1413, Clement Paston, Esq. John Horningtoft of Paston, merchant, Laurence de Thorp, and John Parson of Edythorp, came to this town, and entered into the pasture, &c. of the abbot, belonging to his manor, with their cattle, fed and trod it down to the damage of 40s. fished his ponds, &c. took 200 roaches, 200 perch, and 300 eels, to the value of 100s. and carried them away".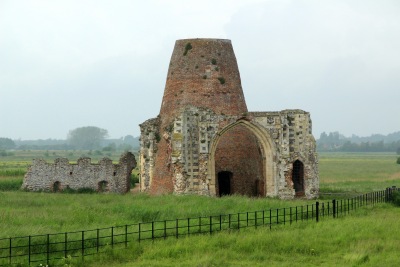 False accusation?
Blomefield states this as a fact but we have no way of knowing if it was a straightforward stealing of property or whether there was some other reason. That explanation seems unlikely given that Clement's son was a prominent member of the legal profession. Perhaps it was a false accusation or possibly an attempt to collect a debt in kind. Such actions are to be found in other places in the Paston letters.
In 1429 we can read a memorandum, dated 8 Henry VI., that "Sir Simon Felbrigge, William Paston, &c., recovered certain land in Edithorp, Bakton, and Northwalsham, against Richard, Abbot of St. Benet's, Hulme, John Roys, and others". This was at a time when Judge William was intent on purchasing and establishing ownership of land throughout north Norfolk. A letter from John Gyney to Judge William in 1444 indicates it was written in North Walsham, and the continuing mention of the town in the 15th century letters indicates its importance as the local market centre.
Agnes in dispute
It surfaces again in 1451 when Paston land at North Walsham is mentioned in a letter of 1451 describing a dispute between Agnes Paston, by then widow of Judge William, and Warren Harman. "Than he askyd me why I had a wey hys hey at Walsham, seyng to me he wold he had wyst it whan it was karryd, and he chuld a lettyd it; and I told hym it was myn owyn grownde, and for myn owyn I wold holde it; and he bad me take iiij. acre and go no ferther. And thus churtly he departyd from me in the cherche zerde." This particular dispute is tacked on as part of a list of claims Agnes is reporting to her son John.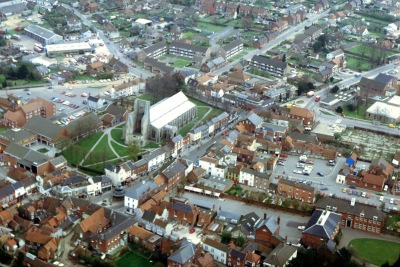 The Pastons managed their substantial estates to produce incomes from malting barley and wool. The market at North Walsham would have been an important trading location. There are several references to Worsted cloth in the Paston Letters and there was a type of cloth known as Walsham, though little detail is known of it.
Fire sweeps through town
On June 25th 1600, fire swept through the centre of North Walsham. The Churchwardens' Book records "... Yt beganne aboute 6 of the clocke in the forenoone and wente on so fearcelse that in twoe hours the wholle bodie of the towne beeinge built cheefly rounde aboute the mket place was on one flame and weh in twoe or three hours more burnt downe to the grounde. There are destoyed and consumed at the leaste CXVII dwellinge houses and aobve fyve tymes as manie barnes, stables, malthouses and other outhouses and buildings, LXX shioppes and warehouses and tradesmen. ... the wholle market Towne is utterlie ruined and consumed except the Church ... The wholle losse is esteemed at the leaste to amounte to Twentie thousand pounds."
Among Sir William Paston's other actions was support for the people of the town who had suffered because of the fire. The Wardens confirm "12 Oct. 1600. Distributed amongst them which was given by the right worshipful Sir Wm. Paston, Knight, XX shillings."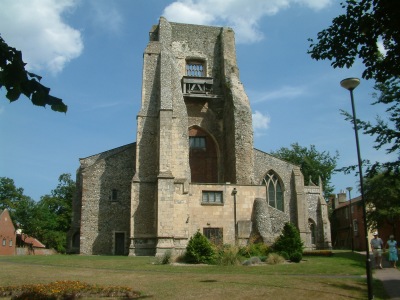 A school and a tomb
Sir William Paston then used his great wealth to purchase land on which he established a school. The school seems to have begun to take pupils in 1604, and in 1606 received its endowment charter. Sir William also built himself a fine tomb in nearby St Nicholas Church. The tomb was designed to provide a heraldic history of the important ancestry of the Pastons. Boys from the Paston School were required to visit the tomb.
The later Paston Letters continue to offer glimpses of life in North Walsham. In 1624 one of the Paston's staff, William Brende, is writing to Lady Katherine to say that, "Bacon one of the Constables of Paston was at your Ladiships vpon tuesdaie last to giue notice that the subsedie for the inhabitantes of Paston shold be paid at Pulles in Walsham this daye." The Mr Rantes referred to later in the letter is perhaps Robert Rant of North Walsham; his father William Rant was a North Walsham man. A later letter from Lady Katherine tells her son William, studying at Cambridge, that, "Mr Rant of Norwalsum died this morning fo a buring ague as Thomson tells us." The Thomson is thought to be John Thomson of Smallburgh, whose son Henry had been a student at Paston Grammar School. The letters also make it clear that the town was suffering from the ague, the plague, in 1626.
Invaluable research
The researches of Paston School pupil and historian Charles Forder are an invaluable resource for life in the town through the students who attended through the 17th century. He relates how the Paston family, though nominally working through trustees, actually kept considerable influence over the school until the time of another William Paston, second Earl of Yarmouth. His financial difficulties through to his death in 1732 gave problems, not the least by his mortgaging, in order to try and maintain his own solvency, lands which were actually endowed to the school. It would fall to new Governors to rescue the school from Chancery. It would be others, though always with a respect for the Paston founder, who would see it through as a boys' grammar school for north-east Norfolk until 1982.
In this 21st century, the town centre site, including the heritage listed gate onto the market place alley and the main school buildings are in the trust of the Paston Foundation and leased to City College Norwich to provide continuing educational services. In and around North Walsham - and much further afield - the Paston Heritage Society provides a forum for discussion and research of the Pastons and the district, as well as publications and exhbitions to further knowledge of the family.