North Walsham Exhibition September 2021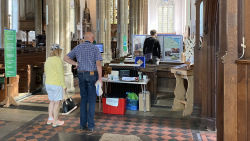 Visitors view the panels at the North Walsham exhibition.An exhibition was organised at North Walsham parish church in September 2021.
The exhibition was conceived as part of the North Walsham Heritage Action Zone (HAZ) Cultural Programme.
The HAZ cultural initiative aims to provide opportunities for local people to explore and celebrate the Town's heritage. Paston Footprints is well placed to link up with St Nicholas Church - the main building at the heart of the Town's HAZ focus. The church has a number of Paston connections, including the most important surviving Paston tomb. The building also provides a very good platform for exploring complementary aspects such as heraldry, as well as providing wider educational opportunities surrounding church history and design.
This introductory exhibition provided background information about 'Paston County' - the area surrounding North Walsham where the Paston family had their two principal homes and which provided a main centre for their economic activity.
Two further exhibitions for 2022 and 2023 are planned. In 2022, the focus will be on the church's memorials and heraldry. This focus will also support the display of heraldic flags in the town as part of the 1381 re-enactment celebrations. The final exhibition will concentrate on how the legacy of the Paston family in the area can support the enrichment of tourism, health and educational activities in the future, with North Walsham acting as a central location for visitors.
For the exhibition, a video was on display of the 3D computer models produced as part of the Paston Footprints project. We include here the clip showing a suggested reconstruction of St Nicholas Church as it would have been known to Sir William Paston (1528-1610) before the fall of part of the tower in 1724.