Clippesby and Constance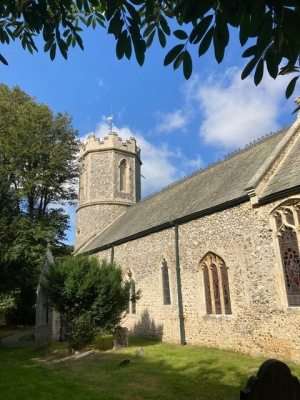 St Peter's church, Clippesby
The sanctuary in the chancel of Clippesby church.Tucked away beside the marshes of the River Bure about three miles north-east of Acle in Norfolk is St Peter's Church, Clippesby. In the corner of the sanctuary of St Peter's is a set of brasses associated with the Clippesbys, an important local family. One of the brasses contains the heraldic arms of the Paston family. This fragment of Paston family history had been noted, not only in the 18th century by Francis Blomefield, but more recently by the antiquarian and heraldry expert Ron Fiske. The prevailing belief was that the arms represented a Constance Paston, who married John Clippesby – and that Constance may have been the illegitimate daughter of John Paston II (1442-1479).
This fragment of history could well have remained in obscurity but for a chance encounter at the Paston Footprints Conference in Great Yarmouth in October 2019 between a University of Surrey PhD student, Jane Clayton, and the churchwarden of St Peter's Church. The churchwarden showed Jane a drawing by John Sell Cotman of the Clippesby/Paston shield. Jane then joined up the dots between John Paston II's illegitimate daughter and the affair between Constance's mother, Constance Reynforth, whose letter of 1478 to her lover John Paston II appears in the collection of Paston Letters. (John's mother, Margaret Paston also names her son's daughter Constance in her will of 1482. A third reference to Constance in the Paston Letters is found in a letter – before 1500 – by Sir John Kendal to Constance's uncle, John Paston III.)
The significance, however, of the discovery stems from the marriage of Constance to John Clippesby. It appears that the Paston family supported Constance in her marriage to John Clippesby, and continued to do so after her husband's death. Jane Clayton has revealed that such a successful outcome for the life of Constance was unusual for the times, and that it also speaks well of the Paston family. Jane Clayton's research is published in the journal Medieval Feminist Forum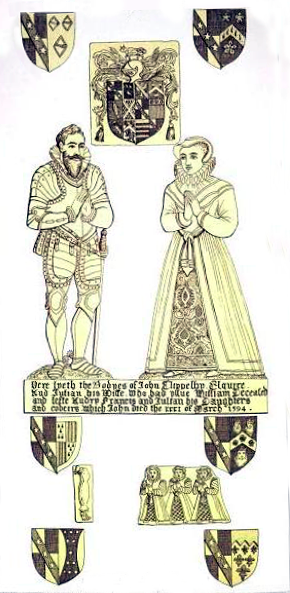 John Sell Cotman's 1813 drawing of the Clippesby brass. The brass shows John Clippesby (d.1594) and Julia(n) his wife, t)he infant William, decesed, in a shroud and their daughters Audrey, Frances and Julia(n). The Paston arms are impaled on the lower right shield.