A Paston at Hardres, Kent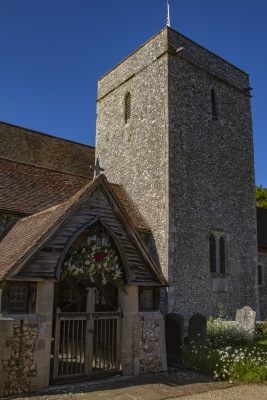 The porch and tower of Upper Hardres churchTucked away in the City of Canterbury district in Kent are the joint villages of Upper and Lower Hardres. Local history suggests that the village name is from the Hardres family; they may have been incoming Norman settlers at the time of the conquest or possibiy a Saxon family who maintained their position under the Normans.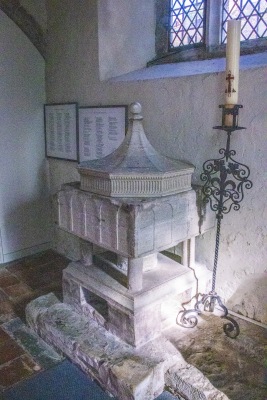 The Norman font in Upper Hardres church pre-dates the current building
Following the sat-nav down some interesting narrow lanes, you come to the 12th century church. This building was consecrated in 1160, but inside the door is the splendid Norman font, and it is doubtless the font at which some members of the Paston family through the female line were baptised. One such infant would have been Thomas Hardres, son of Dorothea Paston, his brothers James and Richard and his sister Isabella.
The pride of the church is the John Strete 'Bracket Brass', not itself now on display but shown off through an actual-size image on the wall. However, it is among the more modest brasses that we find the Paston connection. Various members of the Hardres family of Hardres Court are commemorated in the small floor brasses – through to the death of William Hardres, the last of the direct line, in 1764.
It takes a little exploration in an area now largely covered by the very new vestry to find the brass of Dorothea Hardres, née Paston, giving the date of her death as 1533 and recording her as a daughter of Sir John Paston. One of the doors of the vestry actually opens across the brass. Dorothea's husband was Christopher Hardres, who would die three years later, in 1536.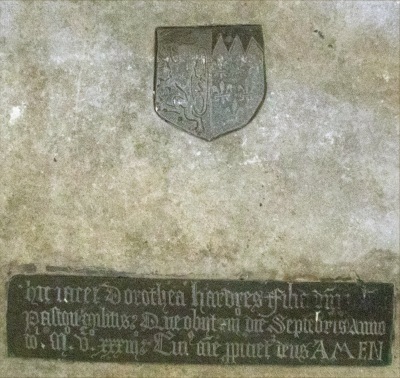 The brass for Dorothea Hardres and the halved coat of arms above
The Paston half of the coat of arms.A careful look at the coat of arms above the plate with the text shows the arms of the Hardres impaled with those of Paston. The fleur de lys of the Pastons can be made out on the right-hand side.
It is interesting to note that when Robert Jenkins was writing - see the link below and the family tree it contains - that the brass had been lost. Perhaps it was hidden under carpeting or pews at the time.
Son Thomas appears to have been a soldier at the taking of the town of Boulogne in the time of Henry VIII. The one-time local vicar Robert Jenkins records that "the Gates of Boulogne, the gift of King Henry VIII to Sir Thomas Hardres, on the taking of that town in 1544, were still standing between the gardens of the ancient mansion" – the mansion being Hardres Court.