A New Member of the Family
The Paston Footprints project is exploring a number of Paston associated sites as part of its work for 2019. A recent discovery at Oxnead church in north Norfolk has uncovered evidence of an entirely new, and previously unknown to modern historians, member of the medieval Paston family, that will literally re-write what was thought to be recorded about the family. A small medieval memorial brass has brought to light the sad story of a young girl whose short life, and tragic death, had previously gone substantially unnoticed by historians and academics.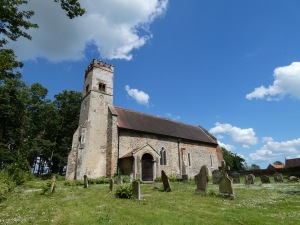 The newly recognised memorial brass was discovered in Oxnead church in north Norfolk, which sits next to the once-great Paston mansion of Oxnead Hall, by members of the Paston Footprints Project. It was at Oxnead Hall that the Paston family entertained king Charles II in 1671, and where the medieval Paston letters were discovered mouldering in an attic room half a century later. The brass is tucked away between two larger monuments, is written in heavily abbreviated Latin, and reads 'Here lies Anna, daughter of John Paston Knight, on whose soul God have mercy , Amen'. It is believed that this small monument represents a member of the family completely unknown to latter-day historians.
Dr Rob Knee of the Paston Heritage Society states, "The style of monument has been identified by experts as being from one of the Norwich workshops in the last decade of the fifteenth century, or the opening years of the sixteenth century, and is of the type commonly used to memorialise an unmarried girl. Given the date the brass was created this doesn't leave us with too many options as to who it commemorates. The Sir John Paston it mentions can only be John Paston III, who inherited from both his father and elder brother - both also confusingly called John. This Anna Paston can only have been a previously unknown daughter of John Paston III, who most probably died before reaching adulthood."
Archaeologist Matthew Champion, who came across the memorial brass whilst investigating the church at Oxnead, states that "Some people may be taken aback that one of the best known and most thoroughly researched families in England can still throw up surprises such as this. However, very few of the Paston letters actually survive from the 1490s, so there is likely to be quite a lot more that we have missed. It is known that John Paston III had another daughter called Elizabeth, who would have been Anna's sister. Elizabeth survives to adulthood, and eventually marries, but the surviving documents contain barely a mention of her."
The Paston documents contain no further information about Anna Paston, and it is impossible to even be sure how old she was at the time of her death. John Paston III had three other children, who were all born in the late 1470s and 1480s. If Anna Paston was born at the same period then it is likely she was in her early teens at the time of her death when the memorial brass was created. However, John Paston III married for a second time after the death of his first wife in 1495. If Anna was a child of this second marriage then it is likely she was only an infant at the time of her death.
Historian Helen Castor, author of the bestselling 'Blood and Roses: The Paston Family in the Fifteenth Century', stated that "This is an extraordinary find: not only a previously unknown Paston grave, but the grave of a previously unknown Paston. The family's remarkable letters shine a spotlight on the middle decades of the fifteenth century, but a great deal of their story, before and after, remains in shadow. The discovery of Anna Paston's memorial is not only a credit to the work of the Paston Footprints Project, but an exciting reminder that we can always hope to find out more, even about histories we think we know."
Professor Alison Donnell, head of the School of Literature, Drama and Creative Writing at the University of East Anglia, stated "It is extremely gratifying that the Paston Footprints Project has led to such an important discovery. This (NLHF funded) project, based at UEA, has been raising awareness of the Paston family's significance in both the local and national history of Medieval England, and being able to bring a new family member into this history is an exciting development."
The Paston Footprints Project will be undertaking further work at Oxnead throughout the Summer. The Paston Footprints Project would very much like to thank Sally Badham MBE, FSA, author of 'Seeking Salvation: Commemorating the dead in the Late Medieval English Parish', and Vice President of the Church Monuments Society, for her generous help in identifying the workshop from which the brass originated.