St Margaret's Church - An Introduction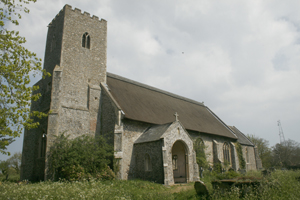 St Margaret's church in the Norfolk village of Paston dates from the 14th century and is constructed from flint. English Heritage has given it Grade I listed building status. It has an embattled tower which looks down on a thatched roof. The porch is on the south elevation and opens to a plain nave and chancel which is divided by an originally 15th century rood screen. The church was restored in 1601, 1843 and again in 1869. In 1922 wall paintings were uncovered. One is of Saint Christopher carrying the Christ child. Another depicts the legend of the three kings who, when hunting merrily in the forest, suddenly encountered three hanging skeletons. There is also a small figure from a 'Weighing of souls' and the remains of some post-Reformation texts.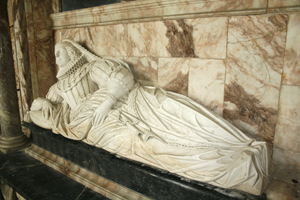 The Paston Monuments are at the eastern end of the building. The tomb of Katherine Knevet (the wife of Sir Edmund Paston) who died in 1628 stands on the north side of the chancel. This was created by Nicholas Stone, the master-mason to King Charles I, who was frequently employed by the Paston family, and contains a verse epitaph written by the famous 'metaphysical' poet John Donne who was Dean of St Paul's Cathedral, London. The tomb is made of alabaster and pink-veined marble and shows a semi-reclining Lady Katherine, sculpted in white marble, surrounded by numerous allegorical figures.
Stone also composed the neighbouring tomb of Sir Edmund who died in 1632. This has a plain urn on a bare base in an aedicule of black Doric columns. Pevsner comments that the 'contrast between the severity of the one and the ebullience of the other is startling'. The chancel also contains three tomb-chests. The one at the eastern end is believed to be that of John Paston, who died in 1466 and was originally buried in Bromholm Priory in a magnificent funeral involving forty barrels of beer and ale.
There are some stained glass windows that are in memory of members of the Mack family alongside memorial plaques within the nave. The east window is in memory of John Mack of Paston Hall, who died in 1867, and is attributed to the firm of Clayton and Bell. The south window next to the rood loft doorway is dedicated to Lt Cdr Ralph Michael Mack RN who went down with his ship, HMS Tornado, off the Dutch coast in 1917.