Investigating the Census Data
The first page in this section carries the data recorded when the census was taken in Paston in 1841. The tools on the page enable you to analyse that data and draw conclusions from it.
This diagram below will help you understand how you can carry out analysis by searching, sorting and drawing graphs using the data.
Think of the data set as being 298 records cards, one for each person in the village on the day of the census. Well, that's not quite right, as sometimes the census officer found an empty house, and he had to record that as well. There's another page in this section with more background about the censuses taken in the 19th century.
Have a look through the diagram, then try some of the examples further down the page. (The picture example is from the Overstrand file, but the Paston file is similar)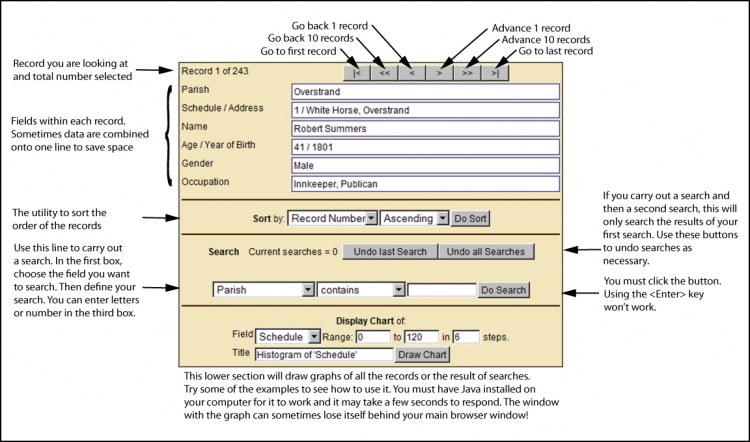 What were the various occupations of the people in the village?
Go to the lower box, click on the arrow of the drop-down menu of the 'Field' and choose occupation. Leave all the other boxes and just click 'Draw Chart'. You'll have a 'Pie Chart' which can tell us quite a lot!
The first thing it tells us is that it wasn't considered worthwhile recording what a large part of the population did! You could carry out a search to find out more about that section, but you can probably guess the limitations of the data - in respect of males and females.
One way to refine your analysis is to use the 'Search' element to find 'Occupation' 'is not empty'. Then carry out the above analysis of 'Occupation' again, and you'll have a graph showing the various occupations and trades that were recorded.
There are many different things you can consider. What was the most common female name? What were the main 'family' names? What was the age profile of the village? Over to you!
One particular thing to note. This system is designed to be used for censuses from 1841. The data collected vary, and the range of occupations varies from census to census. While we have generally tried to give precisely the same data as on the original forms, using a 'Notes' field where there are extra notes from the enumerator, we have occasionally conflated the 'Occupations' when they are similar - for instance, the description 'Innkeeper, Publican' covers both those specific descriptions and some other similar descriptions.