A Mautby Walk
Explore Margaret Paston's (nee Mautby) territory in a 5.2 mile (10k) walk (a short cut of half the route can be taken). Amongst fertile arable land with wayside wildflowers and panoramic views discover the story of the first 'woman of letters'. Medieval matriarch, estate manager, heiress, prolific and vivid letter writer, visit the Church she worshipped in and the nearby home of her cousin Sir John Fastolf, Caister Castle.
There are several public footpaths, and some walking on minor roads where extra care is advised. You may wish to park and start at Mautby church, NR29 3JA. Please avoid parking at the church on Sunday mornings at service times, generally 9am..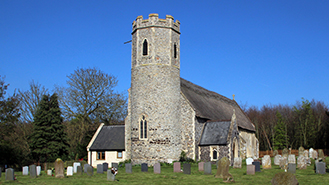 For walkers and explorers. The podcast icons play sections of the podcast for the walking route; use the sound bar to play the podcast sections.
You can click on the Paston shields for more information and on Paston Footprints markers for navigational assistance.Where icons are close together, zoom into he map. The Google Pegman will be available for sections of the walk where you're following the road.
To play the whole podcast sequence, use the sound bar beneath the map.
If you'd like to listen to the whole podcast for the Mautby walk, use the controller below. The total run time is 25 minutes 33 seconds.
The chancel of Mautby church - use your mouse to move the picture. Through to the nave, the arcading on the south side shows where the south aisle, burial place of Margaret Paston, was. There's an intriguing hole in the rood screen on the left - who was keeping an eye on whom?