Wars of the Roses
What we now refer to as the Wars of the Roses led to a series of conflicts across England, with one in Ireland and one at sea, off Sandwich in Kent.
You can use the + or - icon to zoom in or out on the map.
The names of the locations where the battles took place can be seen by clicking on the markers on the map.
For information on a particular event, you can then click again to go through to a Wikipedia page about the battle. At the bottom of each Wikipedia page, you'll find links to other books and articles about the battle.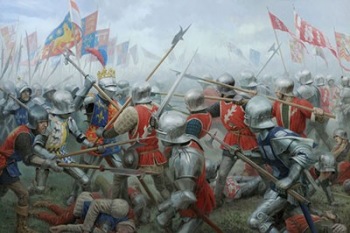 Fierce fighting at the Battle of Barnet, © 2020 graham@studio88.co.uk